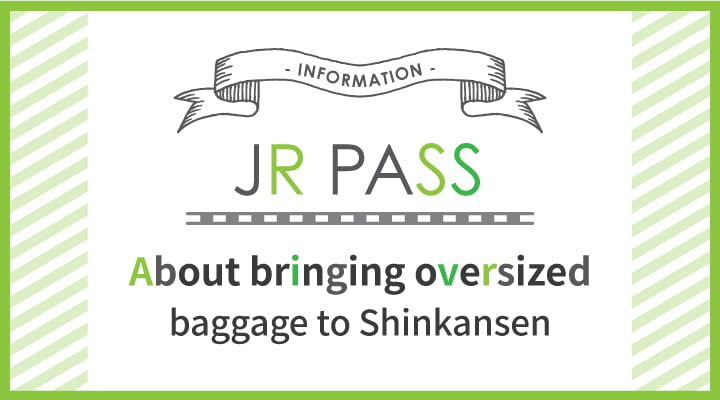 If your overall baggage size is between the dimensions of 160cm – 250cm (oversized baggage); you will be required to make a seat reservation in advance. When you bring oversized baggage to Tokaido/Sanyo/Kyushu Shinkansen (Tokyo-Nagoya-Kyoto-Shin-Osaka-Hiroshima-Hakata-Kagoshima-chou), you will be assigned to a seat that provides extra baggage space.
Q&A
The total measurement of the three sides (length, width and height) is over 160 cm and within 250 cm.
The existing space behind the rearmost seat in the train car will be designated as the storage space.
At the ticket office, you will need to reserve a seat with an oversized baggage area in advance and board, and then leave your baggage in the designated storage area inside the train car.
No additional charge will be required when making the reservation. If you bring in oversized baggage without making an advance reservation, you will be charged a carry-on fee (1,000 JPY; tax included) and be required to store your baggage in the space designated by the train crew.
A sufficient number of seats have been set aside for passengers with oversized baggage, but some trains do get crowded, so if all seats are taken, please reserve another train.
Improved service through the advance reservation system
(1) Before boarding Passengers with oversized baggage can secure the baggage area in advance and use the Shinkansen without being concerned about storing their baggage.
(2) Boarding/getting off the train It will be possible to promptly store the oversized baggage in the baggage area reserved in advance located near the boarding door on the train, making it possible to smoothly get on and off the train.
(3) While on the train Passengers who made an advance reservation can store the baggage in the "baggage area" near their seat and not have to be concerned about their baggage.
*Seats with oversized baggage area are for passengers with oversized baggage, in principle; however, other passengers who require baggage area for a baby stroller or other items may also use the seats.
*Baggage with a total three side measurement within 160 cm may be stored in the rack above the seat.