About OYEP Why IACE? Itinerary Reviews Tour Price Contact Documents 日本語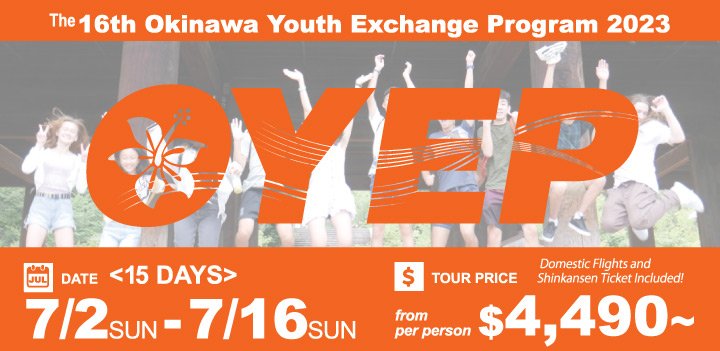 *US departure date is July 2nd (Sun), and start date in Japan is July 3rd (Mon)
Okinawa Youth Exchange Program
In this Summer Camp, we aim to provide students, especially at the high school level, with a chance to interact with their peers in Japan and to understand and appreciate each other's cultures. There is much more to this program than just sightseeing. The purpose of this program is to contribute toward the development of relationships between students from two different cultures. In order to help our future generation learn more about another country and culture, we may provide the students with an opportunity to learn about the locality, society, history, and goodness of Japan.
Who can Participate? :
Middle & High School Students / Age of 13 years to 18 years old
One of our biggest goal of this program is for you to feel that friendship, a cultural exchange, and mutual underst anding are deepened through the experience such as the local high school life and the homestay, etc. in Japan. The Okinawa youth exchange program would also gives you a great motivation for the children who learn their roots for the people of the Japanese.

Highlight: The Okinawa Youth Exchange Program
※Please note that some of the content in the video differs from the 2023 program.
Why IACE?
In business since 1970
Excellent client reviews
We open and support 24/7!
Great value of flight tickets to Japan
Exchange program & Homestay program
Local community-based program
Original optional tours
Offering variety of educational program all over the U.S.
What IACE can offer
In the past 53 years, our company has offered a variety of products for travelers. We started to realize that a program that helps students exchange thoughts and cultures is needed. We thrive on education to accomplish our mission, which is symbolized by the acronym of our firm (International Association of Cultural Exchange: IACE). With our exchange programs, we invite you to contribute to the global culture exchange by sharing your own culture. As we understand, experience, and share who we are and what we can accomplish together, the word "TOGETHER" maximizes its potential. Let's build a better future for our children together!
Itinerary
Day
Date
AM
PM
Accomondation
1
7/2(Sun)
Departure from various places in the U.S.
Departure on your own. No escort.
2
7/3(Mon)
Arrival at Haneda Airport, Tokyo. Upon arrival, transfer to hotel and check-in.
Tokyo(Shinagawa Area)
3
7/4(Tue)
Tokyo sightseeing (full day): Asakusa, cruise ship sightseeing, Team Lab, etc.
Tokyo (Shinagawa Area)
4
7/5(Wed)
Shinkansen transfer from Tokyo to Kyoto.
Kyoto sightseeing
Kyoto (Kyoto Station Area)
5
7/6(Thu)
Full day sightseeing in Kyoto
Kyoto (Kyoto Station Area)
6
7/7(Fri)
1-Day Excursion to Hiroshima
Kyoto (Kyoto Station Area)
7
7/8(Sat)
Prepare for going to Okinawa
Flight to Okinawa / Meet Host Family
Okinawa (Homestay)
8
7/9(Sun)
Northern Okinawa Tour (Host family also attend the tour)
※ Churaumi Aquarium, Beach
Okinawa (Homestay)
9
7/10(Mon)
Okinawa International School
Okinawa (Homestay)
10
7/11(Tue)
Okinawa International School
Nanjo City Tour
Okinawa (Homestay)
11
7/12(Wed)
Okinawa International School
Okinawa (Homestay)
12
7/13(Thu)
Southern Okinawa Tour
※ Okinawa World (Gyokusendo Cave, Ryukyu Traditional Crafts, Ryukyu Kingdom Castle Town, Super Eisa Show) / Peace Memorial Park
Okinawa (Homestay)
13
7/14(Fri)
Okinawa International School
Okinawa (Homestay)
14
7/15(Sat)
Free (activity with your host family)
Okinawa (Homestay)
15
7/16(Sun)
Naha, Okinawa to U.S.A (via Tokyo)
 * The itinerary and content are subject to change without prior notice.
 * The photo is only an image.

The Okinawa Youth Exchange Program 2019
For full version of the video, click here!!
※Please note that some of the content in the video differs from the 2023 program.
Reviews
Reviews from the participaints
I liked school the best because it was a great experience to see how different cultures go about their school life. The Tour Leader was very nice and professional, the food they served was great. Konan Gakuen was the best experience overall because it led me to understand how Japanese students learn. I wished the program was longer!
The best thing that happen to was when I got to go the high school because I've always wanted to go to a Japanese high school and I got to meet a lot of nice people.They were really nice and caring that made me feel I'm right at home also I could depend on them if I needed help. Currently I'm taking Japanese class at the high school and I plan to continue through all high school.
I liked Okinawa the best. Going to school and making new friends was an amazing experience. I wish I got to stay longer and see more of Okinawa though. The tour leader was very nice and helpful and very easy to talk to. I really wish to stay in Okinawa a bit longer to experience and learn more deeply. This was one of my best experiences to have abroad and this made me to attend Japanese classes every week.
The Home Stay experience was very unique because it allowed me to live with a Japanese Family in Okinawa. The school program was excellent to learn about the Japanese Culture and Tradition, which I was mostly interested in.
It was interesting seeing how different Japanese and American schools are. I really liked the teachers and the students. They were very polite, and it was fun talking to them. I felt like I was one of the schools student and part of the class.
Reviews from the parents
It was a spectacular experience to have my son to learn about Japanese culture that cannot be easily accessible in the United States. He is showing more discipline and became to use Japanese in his daily life.
Having a good relationship with the host family was very meaningful. Having a personal network outside the country is always a special opportunity. I think our family will visit Japan more often and Okinawa is definitely one of our destinations!
Before they were nervous because of the language barrier and having to do things on their own. After they seem more confident about doing things on their own.

※Please note that some of the content in the video differs from the 2023 program.
Program priced
from $4490.00~
Our program includes:
Accommodation, Meals (Breakfast & Lunch & Dinner), Admission fees, Ground transfer fees (Including Itami to Okinawa flight※ Shinkansen ticket), School/Homestay arrangement, Tour leader, Travel Insurance
※ When purchasing your international air ticket, please make sure you purchase a ticket from Okinawa to Tokyo as well.
Our Program excludes:
International flights & Tax/Fuel surcharge, and Personal expense
Decuments
Contact